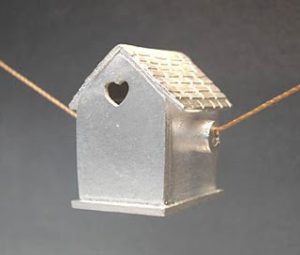 I am going to start a series of Precious Metal Clay lessons on this blog, and this first one is an introduction to the material itself, and how to keep the integrity of the PMC once you start to work with it.
If you are a newcomer to PMC, I highly recommend that you start working with the PMC+ before you branch out and work with the other formulas. I think that the PMC+ is the best formula to work with for beginners.
PMC comes in a lump of clay, wrapped in plastic, and then inside a ziplocked foil pouch. Do not open the package until you are ready to use it. However, if you keep PMC for a long time without opening it, it still may dry out.
The first rule of thumb is to never throw any PMC away. PMC can be reconstituted from any condition until it is fired.
To keep your PMC in the best condition:
Keep it wrapped unless you are working with it.
Spray it with a mister when it starts to dry.
Only take as much out of the package as you can use at one time.
If your clay dries out completely or you want to reconstitute it from a totally dry piece:
Use a roller on the dry piece to turn it back into dust.
Pour the dust and some water into a ziplock bag.
Close the bag and squoosh the dust and water together well.
The next day, mix the clay together while still in the bag, and then see if you need to let it absorb more water or if you can use it as is.  You may need to add water and let it sit for another night.
If you have very small leftover bits of clay, you can also make your own slip by placing them in a jar or container and adding enough water to create a paste consistency.
(Visited 265 times, 1 visits today)