Which Acrylic Paint Kit is Appropriate for a Teenager?
If you are shopping for an acrylic painting kit for teens and adults you can find many possibilities. The selections on this page are for beginners, intermediate, and advanced acrylic artists. Teens and adults will find the best video instructions and supplies to create amazing paintings.
Art kits are a great gift for any artist. Select the kit based on skill and dedication. The kits with instructions are best for beginners and intermediate artists.
Go directly to BLICK Art Materials to shop Acrylic Art Kits.
Museum Complete Beginner Acrylic Media Art Painting Kit
Bob Ross Acrylic Painting Kit
Bob Ross was one of the best teachers of acrylic painting techniques. This kit comes with a step by step guide by landscape artist Bob Ross. Bob's TV show reruns continue to be a favorite of beginners and advanced painters alike even after his death in 1995.
The kit comes in a cardboard box and includes 8 acrylic paints and 4 brushes and palette knife.
Liquitex BASICS Acrylic Paint Tube Sets
There are a generous 48 good size tubes in this set. As usual Liquitex provide good quality paints with vibrant long lasting color.
Liquitex BASICS Acrylic Paint Tube Set
A great beginners set that people say have bright and vibrant colors. The only complete seems to be that the tubes are very small and there is only one small tube of white – but well worth the price especially if you are not sure it is something you are going to enjoy.
Liquitex BASICS Acrylic Paint Tube Set
Experiment all you want with this stylish set. In a handy tin storage box are at least 10 tubes of color plus a palette, a palette knife, pencils, sharpener, and eraser.
Royal & Langnickel Large Tin Acrylic Paint Set
Royal & Langnickel Large Tin Acrylic Painting Art Set
A good basic set at an affordable price for beginners.
Darice 27 Piece Acrylic Painting Set
Darice 27 Piece Acrylic Painting Set
Why use acrylic paints?
Many people choose acrylic as a cheaper alternative to oil paints. They are water based so can be diluted with water and can be used much like watercolor paints or used as it comes from the tubes. It dries much much faster than oil paints which can be a disadvantage if you want to take your time over your painting.
That also makes it hard to clean off brushes unless you keep them moist and clean the paint off immediately after use. They can be cleaned with soap and water. You might note you need to also clean your palette knife as soon as you use it. Acrylic paints are less toxic than oil paints and they don't need any solvents to use.
Royal & Langnickel Acrylic Easel Art Set with Easy to Store Bag
Royal & Langnickel always produce the goods and this beginner kit is ideal for teenagers. The whole thing stores away in a fold down easel with storage drawer and comes with all you need for a mobile studio. Included are 12 acrylic paints and 4 brushes; a palette and palette knife; 3 artist boards, an apron and storage bag as well as pencil, eraser and sharpener. You can be confident when buying this kit that it will suit your teen down to the ground.
Royal & Langnickel Acrylic Easel Art Set with Easy to Store Bag
A large variety of colors in this acrylic painting kit for teens will provide hours of enjoyment and stunning opportunities for color themes.
Acrylic Painting: A Complete Painting Kit for Beginners
Acrylic Painting: A Complete Painting Kit for Beginners
I like the idea of this kit – the set includes a project book to get you started. This is ideal for anyone who hasn't used acrylics before. You can try it out and get good instruction without spending a fortune.
Royal & Langnickel 48-Piece All Media Easel Artist Set
This set include pastels from renowned art suppliers Royal Langnickel – it will make a wonderful gift for anyone.
What art supplies you need for painting with acrylic paints
Acrylic paints, brushes and something to paint on are obvious but which do you choose and what else is useful.
As minimum buy a small selection of good acrylic paints. Include black and white, yellow, red and blue but also include green and purple, both notoriously difficult colors to mix yourself. As with other paints there are student grades and artist grades. The student ones tend to be less vibrant in color. Manufacturers will label student grade with the names like 'hue' at the end.
Brushes – there are lots of places online to get advice on which brushes to use for particular painting so briefly here – you will need a minimum of one soft bristle brush for creating soft watercolor-type painting and one stiff bristle one for thicker painting.
Canvas – canvas is better than paper for acrylics although you might want to use sketch paper to practice, it is much cheaper but using acrylic paint thinned with water might mean it soaks through the paper. You can buy reasonably priced ones that are already stretched and primed. Plenty of time to learn how to stretch and prime raw canvas when you become more experienced.
A palette – use a plastic one rather than a wooden one, acrylic oils tend to dry out on wooden palettes.
A palette knife to mix paints with
A couple of containers of clean water
Rags or paper towels
Martin Raphael Studio Acrylic Painting Kit
This complete kit is an ideal gift for a teenager. Inside is a handy table top easel with storage drawer, acrylic paints and brushes, paint boards and a palette. This is a complete studio in one and at a price everyone can afford.
Martin Raphael Studio Acrylic Painting Kit
Video Lessons on Acrylic Painting Are Helpful to Get Started
Claude Monet TULIP FIELDS WITH WINDMILL Acrylic Painting Kit
Learn to paint with The Masters! These are NOT paint by numbers. Famous Art Kits are designed to teach painting by copying the Masters with lots of instructions given. You will learn brush skills and painting in layers as well as color combinations without the bleeding you get in watercolors that can be very discouraging.
There are a lot of famous paintings you can choose from. These are five of my favorites.
Claude Monet TULIP FIELDS WITH WINDMILL Paint Kit
Edgar Degas' DANCERS IN PINK Paint Kit
Gustav Klimt THE KISS Acrylic Painting Kit
Picasso THE DREAM Acrylic Painting Kit
Van Gogh SUNFLOWERS Acrylic Painting Kit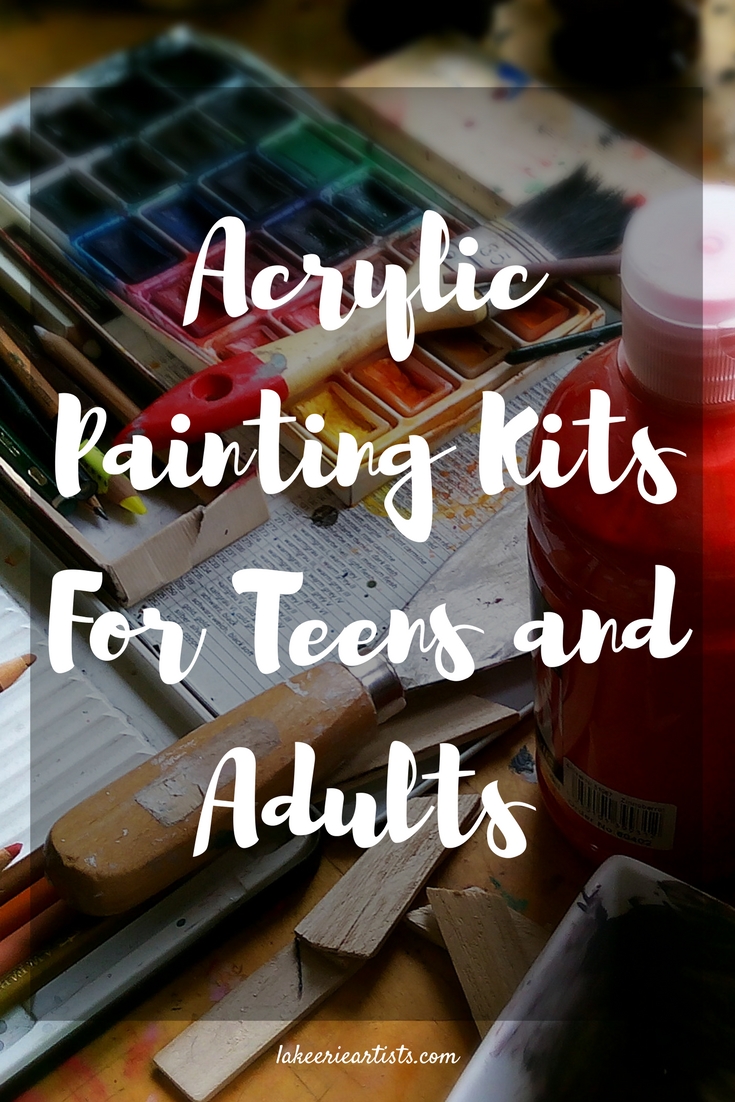 (Visited 4,652 times, 1 visits today)