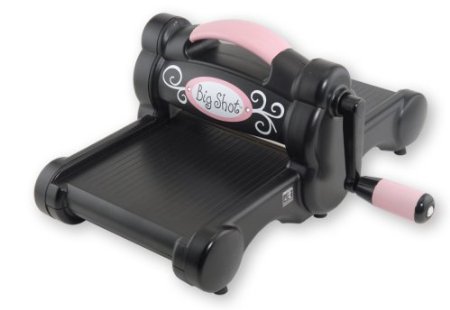 If you are fond of doing crafts then you might be interested to know about the Sizzix 655268 Big Shot Cutting and Embossing Roller-Style Machine
. This is an ultimate cutting machine which cuts practically anything from paper and card stock to fabric. The Big Shot is the machine every designer and those who have passion for arts and crafts want to have. This machine can do a lot of things which make crafting easy and quick.
The Sizzix 655268 Big Shot measures 14 ¼ x 12 3/8 x 6 5/8 inches and weighs less than 8 pounds. It comes with solid core rollers which are housed in a sturdy ABS plastic case. The Big Shot can easily perform numerous die cutting and embossing functions. This machine can actually cut up to 50 different types of materials resulting in unparalleled flexibility. These materials include paper, chipboard, rubber, greeting card, cardstock, beeswax, cork, and acrylic among others. Not even electric cutters offer the same reliability and capability to cut just about anything.
Do you need to create some designs and cut different materials into various shapes? The Sizzix Big Shot can do all the work. Cut shapes and images easily using this reliable machine. Not only that this machine can cut practically any material, it can also perform an embossing function. Explore your designing prowess and create some delicately designed embossing on shirts. If you need a machine which allow you to cut shapes and emboss then this is the perfect machine for you.
Two of the most indispensable accessories which come with every unit are a couple of standard cutting pads and a multi-purpose platform. The platform is actually the accessory which is responsible for the Sizzix Big Shot flexibility. You may also need some dies and embossing designs which are often inexpensive yet essential when it comes to creating your own crafts.
The Sizzix Big Shot Cutting and Embossing Roller-Style Machine offers ease of use which any craft enthusiasts, students, or homemakers want to enjoy in their machine. Operation is easy with handles that are simply and easy to turn. The feet enhance the sleek and attractive design while providing stability to the unit. You can actually use different brands of embossing dies and texture plates most of which are compatible with this unit. The machine's versatility makes it very popular among consumers. Designers especially love this machine which allows them to explore their creativity and create wonderful crafts.
The Sizzix Big Shot Pro Machine
is the Sizzix Big Shot counterpart usually for professional use. What's the difference between these two versions? The Sizzix Big Shot has a huge advantage over the pro version when it comes to price. The pro version is priced between $300 and $400 while the big shot only averages about $60. If you will be using bigger dies up to 12″ then you will need to have the Big Shot Pro version. However, if a 6″ die is enough for you then the Big Shot is perfect and helps you save a lot of money. Both these machines can handle different types of materials. Although the Sizzix Big Shot Pro Machine runs smoother than the Sizzix Big Shot Cutting and Embossing Roller-Style Machine it doesn't mean that the later offer lesser quality job. Overall, the big shot is a better buy especially if you will only be using dies wider than 6″.
With all the functions the Sizzix Big Shot offers plus its versatility and ease of use it is definitely worth the price. Anyone who needs a reliable cutter plus more will certainly benefit from this machine. The machine's durability, high quality, and reliability are more than enough for the amount of money you will spend for the unit. It is the real deal considering the many functions this machine offers. Moreover, you will get to enjoy useful accessories which come with every unit. These accessories offer value for your money and better functions for your machine. The machine is heavier and bigger compared with its competitors. If you want to bring this around or take this to your craft class then it might not be too convenient. However, it is the machine's size and weight which make this an excellent product.
Enjoy more value for your money when you shop at Amazon and get your Big Shot Cutting and Embossing Roller-Style Machine from Sizzix for the best price. Enjoy even bigger savings with free shipping from Amazon if you are Prime member. Scrapbook enthusiasts, designers, and homemakers alike will truly find good value in this versatile machine.
(Visited 534 times, 1 visits today)