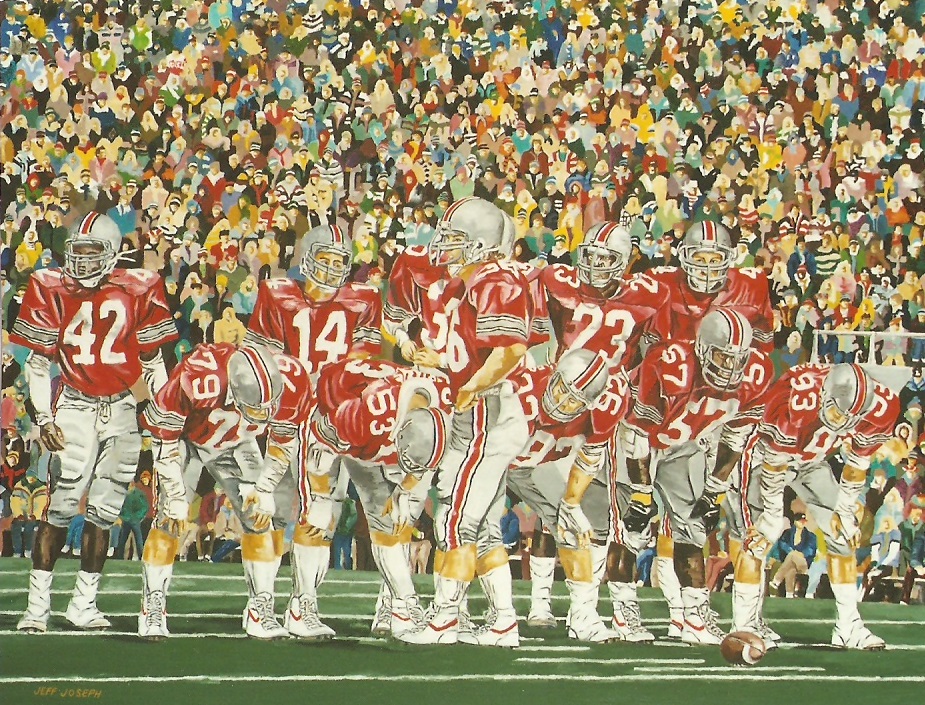 Jeff Joseph specializes in sports art. He has a license to create art for several universities including Ohio State University and the University of Michigan. Originally from Cleveland, he now lives in Michigan.
About the artist, Jeff Joseph:
Location: Brighton, Michigan
How did you get started?
Started pencil sketching junior high classmates
How long have you been doing your art?
Since Junior high school. 7th grade
Do you have formal training?
no self taught
Do you have a dedicated studio/artistic space?
yes, a room above our garage is my studio
How do you come up with ideas? What is your inspiration?
I love the relaxed moments in sports and was initially motivated by Robert Riger's pencil sports art, that hung in my fathers office.
Is this what you do for a living?
50% of my work. I also work in the graphic arts industry.
How long does it take to do a piece?
some original oil take 3 months and some over year, especially if the canvas is 48″ x 40″.
What is your favorite part of doing your art?
Once the general painting is done, I let it dry and go over the whole painting adding and refining the work with more detail.
(Visited 1,038 times, 1 visits today)