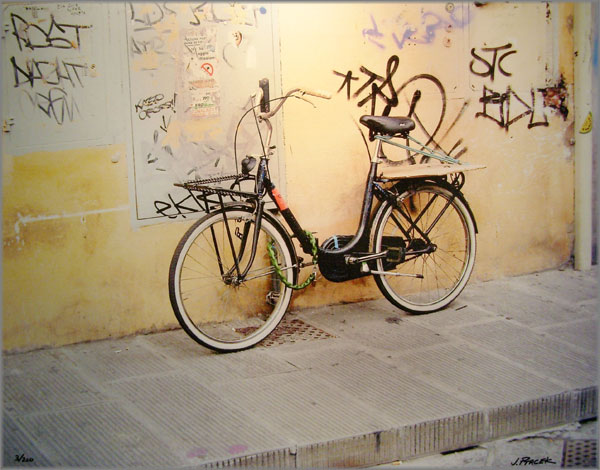 Jim Ptacek got started in 1960 while attending Cooper School of Art. Some of his abstract paintings sold. . .not many, but it gave him the confidence to continue creating more pieces.  In the late 1970's, Jim started producing limited edition silkscreen prints of Cleveland.  Galleries started having shows and selling his work.  He has continued to produce prints, calendars, post cards, ornaments, men's ties, and greeting cards.  Since the 1980's, he has expanded. . .producing prints and posters of local scenes and landmarks in various cities in the United States and in Europe.
About the artist, Jim Ptacek:
Jim Ptacek has been producing artwork since 1960. . .52 years.
Jim graduated from Cathedral Latin High School, attended classes at The Cleveland Art Institute of Art and graduated as an architectural illustrator from Cooper School of Art.
For ten years, Jim Ptacek had a studio and art gallery on Pearl Road in Old Brooklyn, on Cleveland's West Side.  He now has a studio in his home.
For many years, Jim has been asked to do prints of cities, schools and churches, Rockne's Restaurants commission him to do a custom collage print for them when they open at a new location.  Jim and his wife love to travel, giving him the opportunity to photograph many cities such as New Orleans, San Juan, Paris, and Rome.
Jim Ptacek has not relied on the sale of his artwork as a way of earning a living.  Since high school, he has worked on tug boats, in security, as a teamster, draftsman, and as an artist/architectural illustrator.  Since retiring from a full time job in 2006, he has continued producing limited edition prints and posters. Joe Ptacek, Jim and his wife's middle son, is now helping Jim produce welded sculptures, upcycled art.  They are turning rusting scrap metal into works of art.
Upcycled Art by Jim Ptacek and Sons
Our art objects are made from a wide assortment of nuts, bolts, washers and other various scrap metal pieces.  Used hardware items, discarded, left to rust away in five gallon buckets, waiting to be hauled off and sold as scrap.  Our mission is to intervene and change that cycle. . .change the metal's destiny, turn it into collectable, hand crafted, signed works of art.
The metal parts are hand picked for size, assembled and welded into place to create our recycled, upcycled art objects.  The newly assembled pieces are inspected, cleaned, coated, then hand signed.  It is our hope that these formerly used, discarded pieces of scrap now transformed into art, will be enjoyed today and for years to come.
(Visited 2,215 times, 1 visits today)