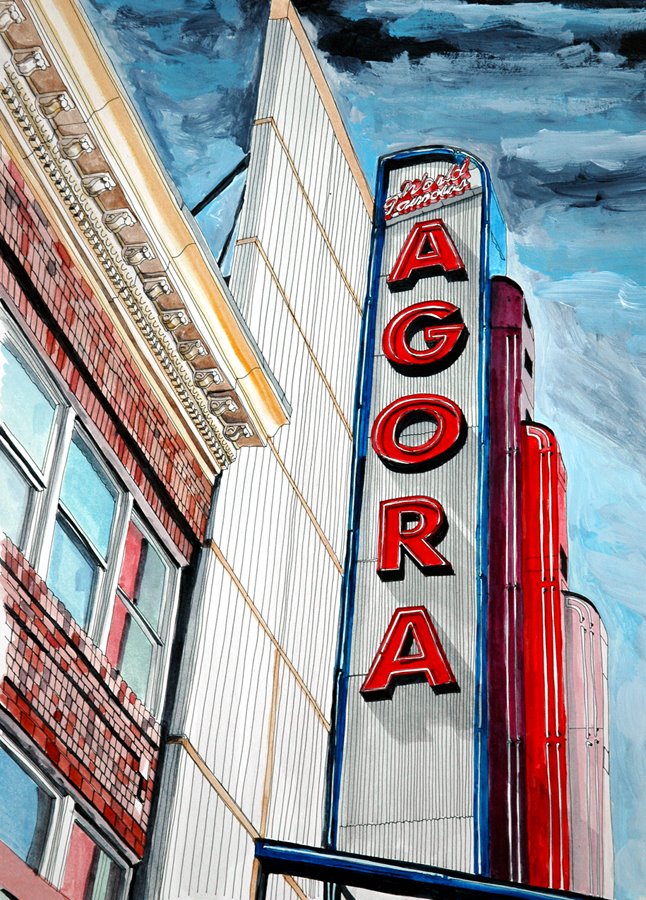 Mike Guyot is the artist behind Streets Art, a graphic artist's architectural impressions of the buildings, and structures that make up cities and towns.  Mike is originally from Boston, where his surrounding were just begging to be drawn, and from there, the rest is history.
Mike Guyot's Streets Art paintings are drawn freehand with a technical pen, no pencil, one brick at a time, while on location or by referencing his own personal photographs taken when he is on location.  After drawing, the pieces are finished with many acrylic washes.
You will recognize many of the places that Mike has drawn, in his beautiful images.
About the artist, Mike Guyot:
Location: Strongsville, Ohio
How did you get started?
After 29 years in the advertising business as a Creative director, my sister and brother-in-law have been doing the art show thing for 15 years. They told me I should try it because no one does what I do, so I tried and so far so good. Some best in shows, first place and second place ribbons have been awarded to us. It wasn't easy, my first show I made $58.
How long have you been doing your art?
4 years
Do you have formal training?
Went to New England School of Art and Design. But my style is self-taught.
Do you have a dedicated studio/artistic space?
Not really, a fourth bedroom.
How do you come up with ideas? What is your inspiration?
Ideas are what hits me when I see it. I travel a lot and do "recon" for great architecture and/or points of interest in towns and cities.
Is this what you do for a living?
It is as of 4 years ago. I still do graphic design for a select few.
How long does it take to do a piece?
I try to do one painting a week. Some take a little longer, but that is the average.
What is your favorite part of doing your art?
The satisfaction of doing something from nothing. And the joy it brings to people. But also it's a never ending drive to get better. I now want to try new media and new subject matter. But that's after I exhaust the trip I'm on now.
(Visited 2,214 times, 1 visits today)