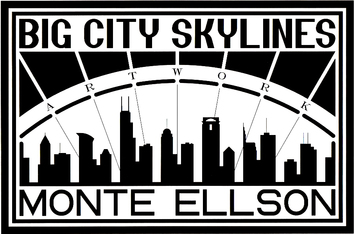 Big City Skylines are the handiwork of artist Monte Ellson.  Although Monte is not actually living in Ohio, quite a bit of his work features the skylines of Ohio cities in a very unique way.
Monte uses a CAD machine (computer generated drawing) to create each skyline one line at a time, taking numerous hours of work to draw each building.  The buildings are laid out by height, not as they are seen in the skyline, and each one has the unique flavor of that particular city.
Besides the Ohio cities we have listed on our website, Monte also has a collection of skylines of other American cities, so send us an email if you are interested in one that you do not see here.
About the artist, Monte Ellson:
Location: Fort Wayne, Indiana
How did you get started?
Playing around with new software
How long have you been doing your art?
Entering the 25th year
Do you have formal training?
Associate Degree in Drafting, Design and CAD
Do you have a dedicated studio/artistic space?
In-Home office and gallery
How do you come up with ideas? What is your inspiration?
Ideas usually come through random daily thoughts and sometimes through dreams
Is this what you do for a living?
Yes
How long does it take to do a piece?
Average approximately 60 hours.
What is your favorite part of doing your art?
When people are truly blessed by it and express pleasure in displaying it. Also, if purchased as a gift for someone else, they are excited and are looking forward to seeing the reaction of the person receiving it.
(Visited 1,048 times, 1 visits today)