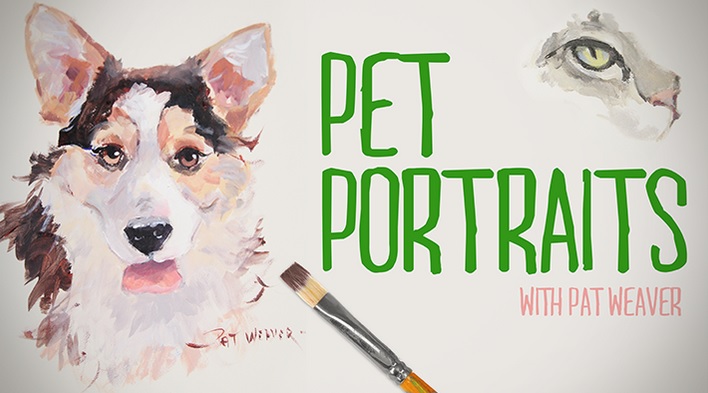 Class Description
Capture your darling dog or cat in a lovable, lifelike work of art! Join renowned animal artist Pat Weaver and discover how easy it is to photograph, sketch and paint your pet. Find out how to select the best source photo for your piece, and discover Pat's easy process for quickly and accurately sketching any dog or cat. Use a simple template and transfer method to translate your sketch to canvas, and then explore value and color. Work with acrylic paint to mix lovely grays and neutral hues that are ideal for animal features and fur, and practice painting expressive eyes with realistic warmth. Follow Pat through three demonstrations as you create your own pet portrait, using loose, fluid brushstrokes to develop fur and whiskers and layer colors for a dimensional effect.
For more information and lesson plans, go here.
Supplies You Will Need to Complete This Class
Acrylic paints (various)
Assortment of good-quality brushes for acrylic work
3B and 6B drawing pencils
Smooth white paper sketch pad
Canvas pad and/or Ampersand Aquaboard
Disposable paper palette
For reviews and other classes, go here.
(Visited 110 times, 1 visits today)