Using Precious Metal Clay Sheet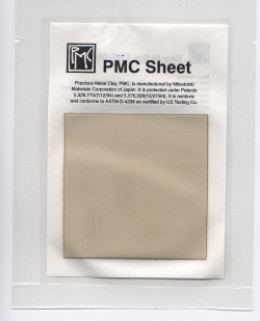 Precious Metal Clay sheet (sometimes called paper) is a unique formula of PMC that is different from all the other formulas or types of PMC. PMC+ sheet has some very unique properties.
PMC+ sheet can be used totally dry.
PMC+ sheet can be cut with a scissors or a hole punch.
PMC+ sheet is as thin as one playing card.
PMC+ sheet is made of PMC+ only, although I have heard rumors of PMC3 sheet in the future. However, the PMC+ sheet is extremely versatile, and can be used for designs that are unique to the PMC+ sheet alone.
Create Designs Using Precious Metal Clay Paper
PMC+ Sheet Clay – 5 Gm

PMC+ Ring Sheet – 5 Gm

Just like regular Precious Metal Clay, PMC+ sheet is expensive, so it is important not to waste it. However, in order to develop the PMC+ sheet, it is mixed with a different binder than lump PMC+, so it cannot be just mixed in with the rest of your PMC+.
When designing pieces to be made with PMC+ sheet, here are some guidelines to keep in mind.
PMC+ sheet is one playing card thick. By itself, it will burn up in a kiln. In order for a piece to be sturdy enough to wear and last through firing, it needs to be a minimum of 3 cards thick. Anything less will tear, break or bend. Therefore, PMC sheet needs to be backed up with either more sheet or lump clay.
PMC+ sheet should be keep mostly dry. Once it gets wet, the PMC+ sheet no longer behaves properly, making it much more difficult to work with.
Cutting PMC Sheet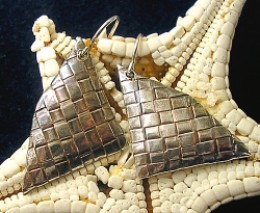 One of the best features of PMC+ sheet is that you can cut it like paper. When you take the Precious Metal Clay sheet in your hand, it does not feel exactly like paper, and it is slightly thicker than standard paper. However, you can cut the PMC+ sheet with an Xacto knife, scissors, or hole punch.
The easiest way to cut the PMC+ sheet is to measure your cutting lines on the sheet and mark it with a pencil or pen. The marks will burn off in the kiln. Then using a scissors or Xacto knife, cut along the lines. Personally, I find it easier to use scissors, but the scissors have to be sharp. Your precision will depend on how good you are with the knife or scissors.
You can also punch holes in PMC+ sheet with a hole punch. And due to the resurgence in scrapbooking, there are many interesting shaped hole punches to purchase from craft stores. Sometimes you can also find scissors that have scalloped edges at craft stores.
Once you have cut your PMC+ sheet, you can keep the cut pieces in a dry, sealed plastic bag until you are ready to use them.
Fiskars has the best hole punches
Fiskars Lace 3-in-1 Corner Punch
Fiskars 1/4″ Star Hand Punch
Fiskars 1/8 Inch Circle Hand Punch
Fiskars Hand Punch, 1/4-Inch, Flower
Fiskars Petal by Petal Squeeze Punch, Extra-Large
Fiskars Hand Punch 1/4 Inch, Heart
How to Origami Books
 Easy Origami
 Star Wars Origami
 Animal Origami
 Easy Dollar Bill Origami
 Pokemon Origami
 Bring Paper To Life
 Exquisite Modular Origami
 Origami for Beginners
 Origami Dragons
 Origami Design Secrets
 One Day Origami
 Origami: Everything You Need
Attaching PMC Sheet to Lump PMC
If you are using PMC+ sheet cutouts to overlay a piece of lump PMC, attaching them is very simple. Place the PMC+ sheet where you want it on the lump PMC, then take a narrow paintbrush, dip it into clean water, and place one drop of water on the sheet. The water will keep the PMC+ sheet in place. Do not saturate the PMC+ sheet with water. Also, do not use paste or slip to attach the sheet.
Designing with PMC Sheet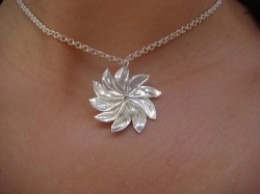 In addition to being cut, PMC+ sheet can be bent or folded without breaking apart. This feature lends the PMC+ sheet to weaving, and origami.
If you are going to weave the PMC+ sheet, you will need two equal pieces of PMC+ sheet. Cut one piece into strips, and the second into strips with the last 1/4 still attached. Then weave the cut strips into the piece that still has one end attached. This Precious Metal Clay weaving still has to be mounted on another piece of clay to make it sturdy enough to wear.
For origami designs, use the square piece of PMC+ sheet shown above, then fold it just like you would a square piece of origami paper. Remember to check your finished origami piece to assure that it can support itself and is thick enough. Once you are finished with the folded origami, you may want to decorate with PMC syringe work.
Firing PMC Sheet
PMC+ sheet can be fired in a kiln, and with a torch. You can experiment to see if your piece can fire in other firing systems like an oven kiln or hot pot. I do not recommend these types of firing systems.
Remember that PMC+ is meant to be fired in a kiln, and is not the low temperature version of PMC.
One interesting use of PMC+ sheet is to apply it to a lump clay design, then put the PMC Aura 22 gold on top of the PMC+ sheet. This should be done in two steps. Make the entire PMC piece including the sheet, then fire it in a kiln. Then add the Aura 22 and fire it again with a torch. You cannot use a kiln firing for this process or the Aura 22 gold will be absorbed by the PMC underneath it because it is so porous, and the Aura 22 is such a thin layer.
(Visited 2,672 times, 1 visits today)