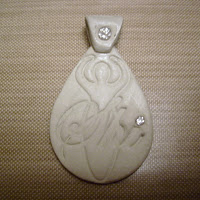 Green finishing your PMC piece is just as important as what you do when the piece is still wet, maybe more important.
PMC cannot be green finished until the clay is totally dry.
Look for areas on your piece that are rough. Even if your piece is supposed to have some roughness, remember that your PMC will be metal when it is fired, and rough or pointed areas will be sharp, so round off and smooth as much as you can with files, sandpaper, or emery boards until the piece is smooth.
Smooth your holes, edges, flat surfaces, even ridges in your design until you can't feel an edge with your finger. Then the piece won't cut you or a cord after firing.
Other things that you can do in the green state:
Add etching with a sharp pointed tool.
Add an attachment, loop, bail with slip.
Add PMC paper with a drop of water to attach it.
Even and widen holes, sharpen design elements.
(Visited 180 times, 1 visits today)