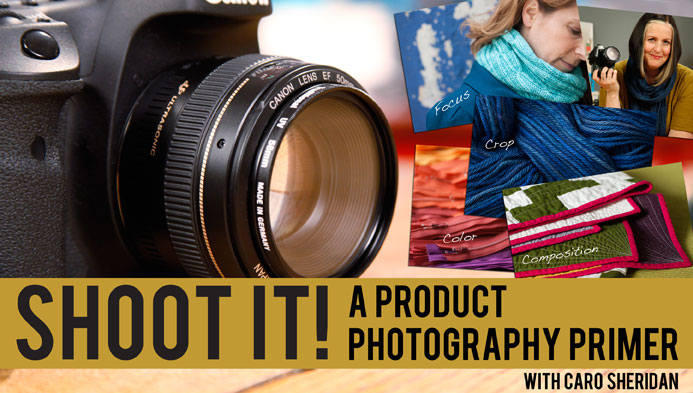 Need help selling your sweater pattern or any other handmade good online? Caro Sheridan will show you how to compose on-figure fashion photos and capture beautiful product shots.
Class Description
If you've ever noticed the beautiful product photography on someone's knitting blog, book, or Etsy page, and wondered, "How do they DO that?" this is the class for you. Quality photos make the difference between marketing that sings and stuff that makes you look like a total amateur. Knitter and photographer Caro Sheridan explains it all – from planning before the shoot to editing afterwards, and all the details in between. You don't need expensive software or a super-fancy camera to take great photos — just the knowledge you'll get in this essential class. Whether you're looking to shoot product pics, or just want to learn more about photography, you will benefit from Caro's upbeat, irreverent and detailed instruction.
For lesson plans and further details, click here.
More Photography Classes
Click the button below to learn more about these terrific photography classes.
All Photography Classes Settings for Success: Landscape Photography Editing Techniques for Night PhotographyCompositing in Photoshop From Start to Finish Creative iPhoneography Tips & Tricks Basics of Digital Photography Composing Classic Landscapes Narrative Photography: Storytelling with Photo Essays Photographing Flowers Free Class: Professional Family Portraits Family Photography: Candid Moments & Storytelling Shooting Intimate Landscapes Landscape Photography: Shooting From Dawn to Dusk Portraits With an On-Camera Speedlight Studio Portrait Lighting Off-Camera Flash Photography Shoot It! A Product Photography Primer
&
(Visited 199 times, 1 visits today)