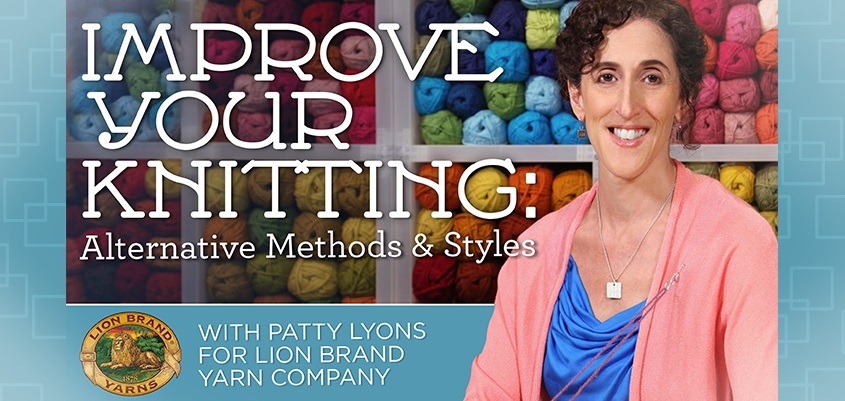 Make your knitting more efficient, comfortable and beautiful as you master six valuable methods and styles.
Class Description
Use the right knitting tool for the right knitting project! Take a trip through the wonderful world of knitting methods and styles alongside certified knitting instructor Patty Lyons. Find out how mastering different knitting styles — Continental, English and Portuguese (also known as Peruvian or Andean knitting) — can help you avoid strain so you can create your best work more easily! Patty will also cover a variety of knitting methods: Eastern, Western and combination. Each style and method has its own unique strengths, and you'll learn to mix and match them for evenly-tensioned projects, improved cables and ribs and more. You'll even discover how to knit and purl backwards, so you never have to look at the wrong side of your work!
For more details about this class, go here.
Crocheting Classes
Beyond Basic Broomstick Lace Class
Knot Hard To Do! Booties (0-3 Months) Pattern
Free Granny-in-the-middle Flower Pattern
FREE Online Class – Kipas Bookmark Pattern
Embroidery Classes
Machine Embroidery with Terrycloth and More
Free Embroidery Patterns at Craftsy!
Craftsy Course with Cookie Gaynor – Digitizing Machine Embroidery Designs
Machine Embroidery, Hand-Stitched Looks
Digitizing Machine Embroidery Designs
Free Online Class-Motion Machine Embroidery featuring Terry White
Knitting Classes
Knit Lab: Projects, Patterns & Techniques
Free Online Know Your Wool Class
Free Online Short Rows Knitting Class
Intarsia: Basics & Beyond, with Sally Melville
Sewing & Quilting Classes
 Next Step with Your Walking Foot Exploring Natural Machine-Quilting Motifs Smart Sewing Techniques Guide to Sewing With Wool Start Appliqué
Oh My Stars! Six Pieced Blocks Quilting Class
Snazzy Stitched Portraits with Carol Ann Waugh
Luminous Lone StarQuilts, Courtenay Hughes
Machine Quilting Wholecloth Quilts, by Cindy Needham
Finishing Schools: Edges & Bindings, Mimi Dietrich
A New Look at Longarm Quilting with Mandy Leins – FREE!
Bag-Making Basics: Reversible Tote & Zipper Pouch-Free Online Sewing Class
Jean-ius Reverse Engineer Your Favorite Fit Class
Pattern Drafting from Ready-to-Wear Sewing Class
Creative Closures: 8 Unique Techniques, with Marsha McClintock
Spinning Classes
Weaving Classes
Rigid Heddle Weaving: Beyond the Basics
(Visited 273 times, 1 visits today)