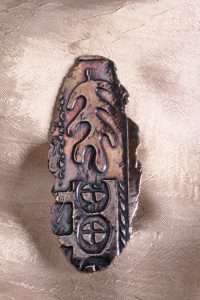 A patina is a tarnish on the surface of metals such as silver, copper, and bronze caused by either oxidation or a chemical process. Naturally occurring patina can help to provide a layer of protection against weathering and corrosion. When a patina is intentionally placed on an object by means of a chemical process, it is usually done to add aesthetic appeal to give the object a vintage or weathered look.
Adding Patina to Silver
Adding patinas to precious metal such as silver can be accomplished by using either liver of sulphur or bleach. Many times jewelry makers will use these methods to give their metals a certain look that is just right for the piece they are working on.
Using Liver of Sulphur Solution
When working with liver of sulphur and silver, be wary of simply dropping silver pieces into the solution, as you may end up with dark black metal that requires scrubbing with steel wool or another abrasive to remove the excess black color. Instead, try using a warm to hot liver of sulphur solution and dip pieces into it and then immediately rinse them off with water. Repeat the process until the desired color is achieved. If you leave the silver items in the solution too long, you do not have as much control as to how the finished product will turn out. Using this method will allow the artist to gradually darken the metal in layers.
If you plan on using liver of sulphur with both silver and copper pieces, make sure to keep a separate solution for each type of metal. If you must use the same container for both metals, do all of the silver pieces first before dipping any copper pieces into the solution. Copper will change the chemical balance of the liver of sulphur and can result in creating a yellowish effect on silvers after this chemical change occurs. Another way to avoid this problem is to use a product called Baldwin's Patina which can be used with copper as well as other metals such as gold, nickel silver, or sterling silver, without affecting the outcome. One drawback to using this product is that all pieces, no matter which metal is used, will have a similar "gunmetal" look to them which does not give the same multi-dimensional appearance of a traditional patina.
If using liver of sulphur pebbles, avoid getting them moist at all costs, or else the entire container of product will degrade and become useless. Also, if you add one drop of household cleaning ammonia to the liver of sulphur solution, it will produce more colorful and interesting results on your finished pieces.
Bleach Patinas On Silver
If you wish to add a patina to silver coins or objects, you can use basic supplies such as household liquid chlorine bleach, water, and a disposable plastic bowl. The amount of bleach and water ratios used will be determined by how dark you desire the patina to look. For a light patina, use a small amount of bleach and mostly water and allow coins to soak in plastic bowl until you achieve the desired result. For a brown patina, make the solution half bleach and half water. You should begin to see results within minutes. To achieve a blackened patina, use 100% bleach with no added water, and allow pieces to soak for approximately one hour.
After you have achieved the desired look, use a 7-way nail buffer taking care to avoid the use of sides 1 and 2. For super shiny pieces, begin with side 4 and continue buffing with sides 5, 6, and 7. Begin working with side 3 for blackened pieces, and side 4 for all other non-black pieces. Play around with the various sides and buff the silver to the desired level of brightness.
Flame Patina On Copper
When working with copper, another method can be used to produce rich patina that provides a rainbow of beautiful colors. This is the flame method, also referred to as the flame painting method. By using a small propane torch or butane torch and using heat proof tongs to hold your copper pieces, move the flame over the metal briefly. After you remove the flame, the color will continue to build, so learn to time how long you hold the flame on the metal before removing in order to achieve the desired color. Once the color you like is obtained, dip the piece in water. Continue to use the torch technique all over the piece, or just in the places where you would like color. Make sure to have the proper workspace, tools, and flame and heat proof surfaces when working with this method.
Painting Patinas On Brass And Other Metals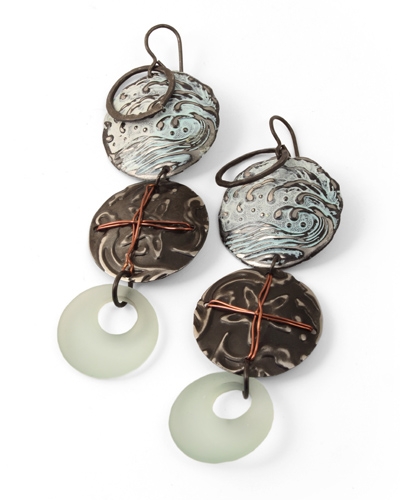 When using brass and other metals in crafting or jewelry making projects, special opaque inks can be used to "paint on" a patina. Vintaj Patinas brand offers a selection of 21 blendable colors, as well as 4 metallic shades. These opaque inks are specially formulated and made to adhere to metal and provide a beautiful and durable patina effect to any project they are used on. They do not require sealing and are designed to be permanent. The inks can be painted on with a flat paintbrush by using a dabbing method. For most projects, it is advisable to use a three color palette combination to resemble a natural patina. Most of the colors are available in sets of three colors that compliment each other.You can blend the colors as you go, adding layers until you obtain the desired result. Some special projects may only require one solid color patina to create the desired look.
There is also a Vintaj Glaze that can be applied to the finished pieces, if desired. This will prevent the colors from naturally lightening over time and preserve the colors as they are. The glaze will also provide a seal, even though none is required. The patina itself should never be diluted with water, but the glaze can also be used to dilute colors to give them a washed look. Using these products can create beautifully colored finished pieces of brass and other metals.
(Visited 5,741 times, 1 visits today)