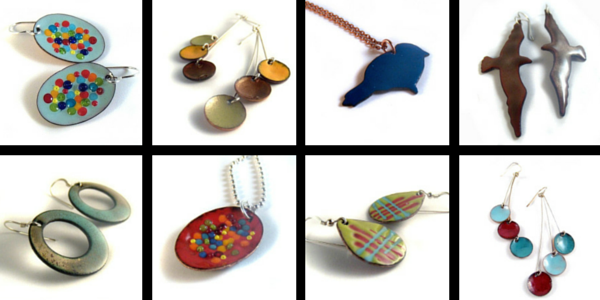 As a metalsmith, I love creating miniature worlds and portable art that can be worn around the wrist, reclining on the clavicle, hiding between two fingers, or hanging from spiral ears. I`m drawn to the intimacy of the scale of jewelry and the interaction than can occur between the maker and the wearer, even if they are strangers an ocean apart.
I'm a 2006 BFA graduate of Syracuse University hoping to eventually be totally self-employed. Huffalo is my tiny, crafty endeavor focusing on hand-made one-of-a-kind and limited-production jewelry and accessories utilizing metal, enamel, glass, and found objects.
Huffalo rhymes with buffalo. Huffalo is Lindsay Huff, a Taurus who likes loudly played and made music, adventures, rescuing broken things, obnoxious Yinzerisms, radio singalongs, mysteries of Pittsburgh, and my ritual double hazelnut cappuccino from La Prima.
 confetti enamel earrings

 confetti enamel necklace

 pendula enamel earrings

 pendula enamel earrings

 songbird enamel necklace

 pendula enamel earrings

 hawk enamel earrings

 enamel loop earrings

 songbird enamel necklace

(Visited 239 times, 1 visits today)