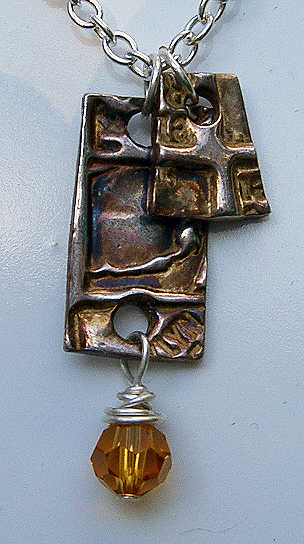 Paula Atwell Jewelry is organic in style, using a mixture of brass, fine silver, copper, pearls, crystals, and precious gemstones.  Paula likes to mix textures, often combining rustic handmade silver charms with shiny crystals and smooth pearls for a unique combination.
About the artist, Paula Atwell:
Paula is a native of University Heights, Ohio although she was born in Seattle, Washington. She has loved art since childhood but did not get involved with it professionally until after she had two lovely daughters, and was working full time in another field.
"I began by taking beading classes for relaxation, and became more and more hooked.  I started wanting to make my own beads, and in doing so discovered Precious Metal Clay."
Paula Atwell is certified in Precious Metal Clay, but other than that is a self-taught artist. She has a degree from Ursuline College in Pepper Pike, Ohio, in English, and minor in accounting. In addition to making jewelry, she also paints in acrylic and watercolor, and is the full-time owner and manager of Lake Erie Artists Gallery.
"I am always thrilled when someone comes in and falls in love with one of my pieces. It gives me a sense of accomplishment and pride to know that someone else enjoys my style of making jewelry.  Sharing my artistic vision is part of what encourages me to continue designing and creating new pieces."
(Visited 281 times, 1 visits today)