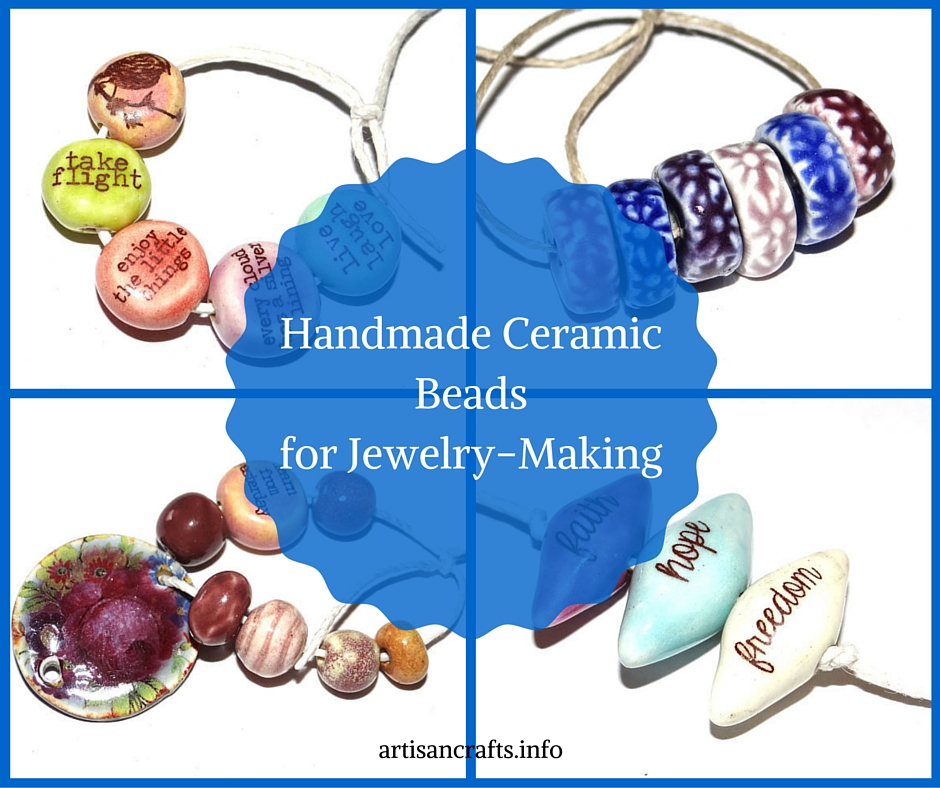 Grubbi Ceramics makes wearable ceramic art. The handmade ceramic beads are made by Natalie McKenna, who is the owner, designer, and curator for the shop. Natalie is a ceramics artist who is originally from Liverpool in the United Kingdom, who currently resides in a cottage near the sea in Scotland. The artist loves the water and is surrounded by countryside and wildlife. She loves animals and owns several cats, has one child, and has been a vegetarian for over three decades. She makes all of her handmade ceramic beads using stoneware clay, then puts them through a drying and firing process before glazing them and firing the pieces a second time.
Grubbi Ceramics also has a bead group on Facebook where you can check out her most recent designs. Currently, the artist is very focused on making wearable ceramic art pieces that have glazes, decals, gorgeous color, and great patterns. She incorporates all of this with her ceramic beads that feature words and quotes. All of her handmade ceramic beads are perfect for jewelry making.
Ceramic Quote Bead Set
This wearable ceramic art bead set features positive inspiration on word beads that feature quotes like "enjoy the little things" stamped on them. They are made from stoneware clay and measure approximately 11 to 15 mm with 1.5 mm holes. Great for stringing, knotting, or for use with wire wrap, etc. These beads are lentil-shaped and are glazed with pretty colors such as purple, turquoise, and coral. Bead set includes four colored quote beads and one bird bead.
&
Ceramic Quote Word Bead Set
This is a set of three handmade ceramic beads in colors white, purple, and light blue. Each bead features one word, "faith", "hope", or "freedom". These beads are shaped similar to an old fashioned bulb on a strand of Christmas lights and measure approximately 17mm to 24mm in width and around 10mm in height/depth, with 1.5mm holes. Made from stoneware clay and glaze.
&
Ceramic Bead Set and Pendant
This is a set of seven beads and one pendant. Handmade ceramic beads measure approximately 10mm to 14mm and pendant measures 28mm in length. Six beads are round and of various color, mostly shades of burgundy, with one striped bead among them. The other bead is a word phrase bead that says "learn from yesterday". The pendant is circular shaped and features a floral design in shades of burgundy. Use these pieces to create beautiful and unique jewelry items.
&
Ceramic Floral Beads Set
This is a handmade ceramic bead set that includes five beads measuring approximately 12mm with 2mm holes. Each bead is a rustic pink-brown color. Made from stoneware clay then fired and glazed and fired for a second time. Use these beads to create a dramatic jewelry piece.
&
Ceramic Textured Flower Disk Bead Set
This is a handmade stoneware ceramic bead set that includes six beads measuring approximately 12mm to 15mm with 2mm holes. Beads are shaped similar to a Life Savers type candy, only thicker, with the hole in the center. Along the edges, there is a floral pattern design in shades of pink, purple, burgundy, and blue. This set is great for stringing to create unique , stylish jewelry pieces.
&
20 Ceramic Bead Set Stoneware
This is a set of twenty handmade ceramic beads that are various shapes and sizes, leaning toward the smaller size. Some beads are more circular, white others have a flatter, oval appearance, while others square. Square beads have a stamped pattern on them, while most of the round beads are colorful and smooth. Other beads have carved edges. Beads are various shades of blue, aqua, and turquoise. Great for making a bracelet or necklace. Beads measure 9mm to 12mm, with 2mm holes.
&
Ceramic Bead Set and Pendant
This is a set of handmade stoneware ceramic beads measuring approximately 10mm to 14mm , with a pendant measuring around 28mm in length. Five of the beads are round and feature colorful glazes in shades of blue and greenish-blue. One bead is flat and white and is stamped with the phrase "speak the truth even if your voice shakes". The pendant is a heart shaped design and features lovely flowers in shades of blue. These would make a lovely necklace for anyone with jewelry making skills.
&
Unusual Spiral Ceramic Earring Charms Pair
Make a great pair of earrings out of these handmade ceramic earring charms that measure approximately 22mm in length. Made from stoneware clay that is dried then fired, then glazed and fired again, with the decals being added on the third firing. This set of charms has a light lavender and light blue coloring, along with white. Fun and whimsical design makes for an interesting piece of jewelry.
&
Ceramic Bead Set and Pendant
This is a ceramic bead set that includes four regular beads and one flat word quote bead in a sage green color. This set also includes a rectangular shaped pendant with the colors purple, turquoise, red, and yellow. Bead colors include coral, brown/black, red, and aqua. Beads measure 9mm to 12mm with 2mm holes, while pendant measures around 30mm. Put together to create a unique bracelet or necklace.
&
Ceramic Mini Round Beads Set
This is a set of twenty one handmade ceramic beads, all round in shape. Beads measure around 7mm to 8mm with 1.5mm holes. Set features several beads in a rich brown shade with yellow speckles, some white one that look pearlized, and others in swirled tones of turquoise, yellow, and green. String them together to create a lovely necklace, or maybe create a bracelet and coordinating earring set from the set of twenty one beads. All beads are created from stoneware clay and are then fired and the glazed and fired an additional time.
&

(Visited 896 times, 1 visits today)