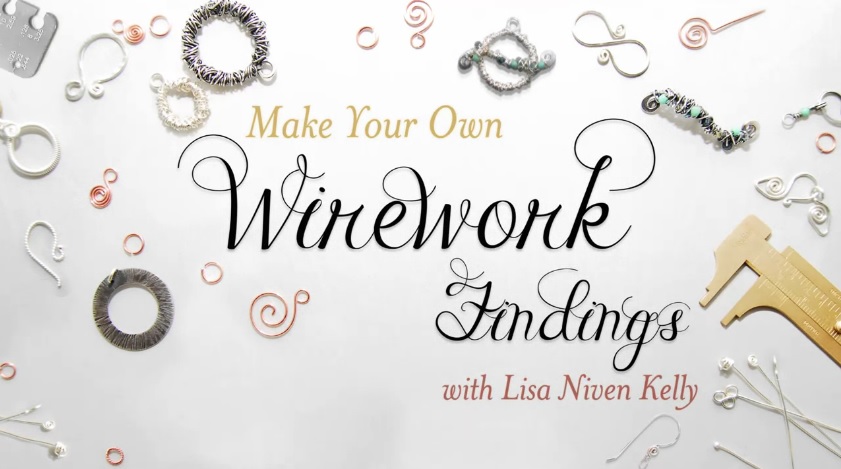 Class Description
Take your passion for making jewelry to the next level by learning to create your own beautiful, custom wirework bracelets, necklaces and earrings. Award-winning artist Lisa Niven Kelly will entertain and encourage as she walks you through forming a wide variety of findings. You'll learn to perfect the basic loop and then build on that to create hooks, clasps and toggles that can serve as a stunning focal point for a piece. She will show you how to make coils, spirals, flowers and more to add interest and intricacy to your jewelry designs. You will learn to work in a variety of gauges and metals. Lisa shares her passion for design and will give you the confidence to design and construct your own metal masterpieces.
Get in the loop and sign up for Make Your Own Wirework Findings today!
What You'll Learn
To make perfect loops, the foundation for creating your ow

n

wirework findings
To coil, bend and hammer wire to add architectural interest to your designs
To secure and connect beads or loops to make a chain
To create sturdy and beautiful head pins and ear wires
To create clasps and toggles that can secure your creations and even become the show-stopping element of your piece
What You'll Make
Turn a length of wire into beautiful wirework findings – head pins, ear wires, loops, toggles, clasps and more – that can be used to create one-of-a-kind bracelets, necklaces and earrings
For more information and detailed lesson plans, go here.
What You'll Need
Copper and silver wire, various gauges
Assorted pliers, including: chain nose, bent chain nose, round nose and nylon jaw
Tapered flush cutter
Bench block
Chasing hammer
Nylon or rawhide mallet
Medium file
Variable-speed drill (optional)
Beads, various sizes
Tools for some some specific techniques include
Butane torch and kiln brick (and safety glasses)
Liver of sulfur or a hydrochloric acid-based oxidizing solution
Tumbler and accessories for polishing
Stamping tools
(Visited 186 times, 1 visits today)