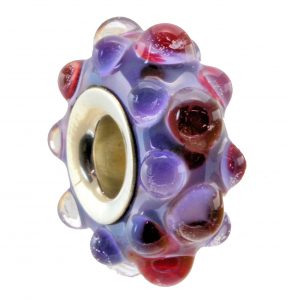 Murano glass differs from all other glass in that it is created in only one place in the entire world,the island of Murano. Murano is located in Northern Italy within the borders of Venice. This glass is created by master glass makers using basic tools and special techniques that have been used in glass making since the Middle Ages. The making of this glass combined the experience and skill of the Romans along with the influence of Oriental trading. No other glass holds as much artistic value and represents as much history as Murano glass.
History of Murano Glass Making
Murano has been a major trading port dating as far back as the 7th century. Their history of beautiful glass making dates back to the 8th century and is thought to have originated in Rome. Murano gained a real reputation as being a leading glassmaker when the Venetian Republic ordered glassmakers out of Venice for fear their foundries would cause a major fire in a city with so many wooden buildings. The glassmakers then had to move their livelihood to the island of Murano in the year 1291. The glassmakers soon earned the status of being considered very prominent citizens who enjoyed special privileges.
Being a glass maker did come with its own rules, such as not being allowed to ever leave the Republic. The glass masters were also forbidden to ever reveal their glass making secrets, and doing so was punishable by death. Part of the reason for the isolation of the glass makers was to keep the secrets of the trade a secret.
How is Murano Glass Made?
Murano glass is made from materials such as lime, soda, silica, and potassium. These ingredients are melted together until they reach a liquid state, by placing them in a special furnace that is heated to temperatures of around 1500 degrees Celsius. The glass maker will then mouth blow and or hand craft the molten mixture using basic tools and special glass making techniques that have been in use for centuries. The methods used in producing Murano glass result in rich colors and beautiful patterns and shapes. The pieces can turn out so beautiful that they are considered to be works of art that stand out from other types of glass.
Other materials such as gold or silver foil, or copper might be added to the glass mixture to add sparkles. In order to create white glass, zinc can be added, For blue glass, cobalt is added, and for violet colored glass, manganese can be added. Using copper and cobalt compounds in the glass mixture creates aquamarine colored glass, and a gold solution is added to the mix to create the ruby red color.
The glassmaker may add sodium oxide to the glass mixture to make it remain workable longer to allow more time to shape the glass. The glass artisan may add sodium to create an opaque surface, and nitrate or arsenic to eliminate bubbles forming inside the glass.
Tools Used in Making Murano Glass
Murano glass making relies much more on the skills of the glass maker than the use of any fancy tools. This is one reason why this type of glass stands out and is considered to be more "artistic" than other forms of glass making. Most of the tools used today in creating Murano glass are the same tools used centuries ago, as very little has changed through the years in regards to this craft. Simple tools are still used that include the borselle, pontello, scagno, canna da soffio, and tagianti.
The borselle are special tongs or pliers that can be used to hand form the glass when it is red hot. A pontello is used for attaching the glass object to after it has been blown so that the artisan can add any final touches. The scagno is the name for the workbench of the glassmaker. Canna da soffio is the blowing pipe through which the glass master mouth blows the glass into shape, and the tagianti are large clippers that are used for cutting glass.
Techniques Used
Some techniques used in the creation of Murano glass include the Murrine technique, and the Sommerso technique. In the Murrine technique, the colored liquid glass is layered then stretched into long rods which are then cut in a cross section to show the layered pattern and design. One of the most styles that uses this technique is known as "millefiori" which involves each layer of colored molded into a star shape before it is cooled and another layer is added. When the piece is sliced it resembles many flowers, hence the name millefiori which translates into "thousand flowers".
Sommerso means "sunken glasses" in Italian, and this technique involves layers of contrasting colors where a gather of colored glass is blown into another layer of glass, which is usually clear. The gather or colored glass is blown into shape by the glass master. This process is usually used in making such pieces as vases and sculptures.
Characteristics of Murano Glass
This glass is made of the highest quality materials with extra attention paid to the fine details in workmanship. Each piece of Murano glass is totally unique due to its handcrafted nature, and no two pieces are exactly alike. You might notice a slightly uneven texture to the glass, as well as the presence of very tiny bubbles beneath the surface. A genuine piece of Murano will also have rich, vivid colors.
Significance of Murano Glass
What makes Murano glass so significant and so valuable is that is has been created in what is known to be the longest lasting region designated for glass making throughout history. Besides its rich history, this glass is also valued because of the high quality standards and excellent craftsmanship. Even today, some of the historical glass factories of Murano still produce well known glass brands such as Gabbiani, Venini, Barovier & Toso, Pauly, Salviati, FerroMurano, and others.
Many items can be made from Murano glass including vases, paper weights, figurines, jewelry, glass beads, and chandeliers. These items hold special value because of their rich history as well as the fact that this glass is still produced by hand to this day, as opposed to being mass produced.
(Visited 130 times, 1 visits today)