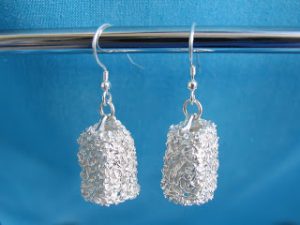 I will tell you right off that using a Precious Metal Clay syringe is not my favorite technique, and if you look at any of my work, you will be able to see that. I rarely use a syringe because I do not love the filigree look, my hands shake making the syringe almost impossible for me to use, and they are too delicate for my style.
That being said, there are many PMC enthusiasts who love using the syringe, and it is another great way to add style and detail to your piece. If you notice the earrings in the above picture are made completely out of a beehive of syringe technique. This will make your work very lightweight, but also would be very delicate and need special care.
My personal recommendation is to use the syringe as a layered detail on a solid piece of PMC. Syringes come with three different width tips or you can make your own out of thin plastic. It is important that once you open your syringe that you keep the tip in a container of water or your PMC inside the syringe will dry out very rapidly. Do not open a syringe until you are ready to use it. You can refill a syringe once it is empty with a thick slip, but it won't have the perfect consistency that the premade syringes have.
The best way to use a PMC syringe is as a filigree decoration on top of another design, to smooth an edge where two pieces come together, or as a bezel for a stone. I have seen some extremely clever use of syringe technique by fellow artists. The syringe takes a steady hand, and a lot of patience to master.
As you use the syringe, keep in mind the rules about how thick PMC needs to be to have enough strength for regular wear and tear.
(Visited 496 times, 1 visits today)