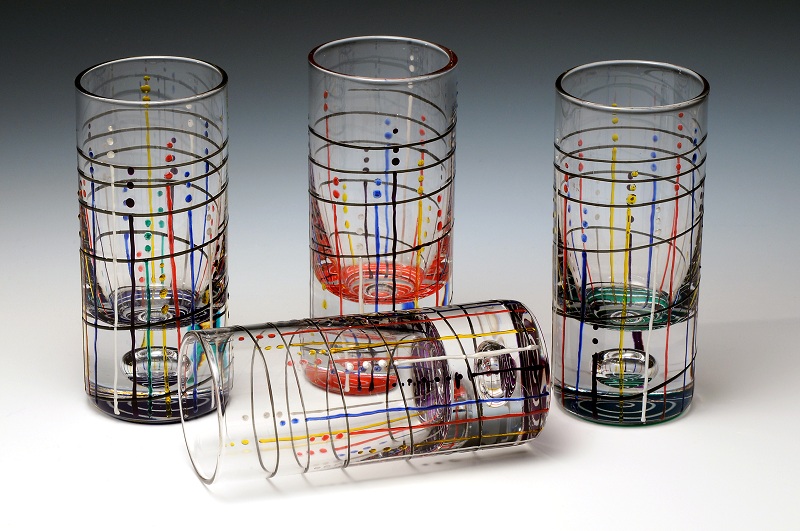 Mindy Sand hand paints functional glassware that can be used, washed, and used again.  She has many popular items including dishes, wine glasses and mugs. But with enough time, she can add her special touch to most any glassware. She also creates ceramics work during part of the year.
About the artist, Mindy Sand:
My creative work and my personality as an artist, teacher, and mother are shaped by movement and balance. I constantly strive to balance my artistic identity with my everyday life. My identity reveals itself through my art and allows me to find a harmony in all aspects of my life.
I have always been mesmerized by the endless possibilities with clay, its paradoxical combination of elasticity and permanence. As I continuously explore the medium, I teach others, and through that teaching, my creative work evolves.
Creating functional ceramics allows me to become part of someone's everyday life. I believe surrounding your life with handmade objects, whether functional or not, enrich our life with art and beauty. I am creating a part of myself I share with others. Whether a mug or a flower vase, my work becomes a part of their daily rituals.
I have cast my net far and wide, living in the Northwest, Southwest, Northeast and Midwest of the United States. I've studied art formally at Boston College, The Ohio State University, The Oregon College of Arts and Crafts, Kent State University, and various workshops throughout our the land. Each environment is so different, yet the same. My art is always influenced by what I see, feel and learn everyday, wherever I am. I analyze objects, breaking them down into their properties of shape, texture, and density. To analyze something fully, I have to touch it. I look at a simple line and dissect it into parts. I explore how lines create intricate patterns, textures, movements and even emotions.
My ceramic art and my identity constantly balance one another. My ceramic art changes as I change. My carving has always been part of my pots. The clay is my canvas to carve lines, textures, patterns, movement and most of all, my emotions. I often write my thoughts when I am carving. I understand myself and who I am when I am carving and writing down thoughts, ideas, and dilemmas aids my productive output. The natural world comforts me, so often I carve the beauty of nature around me but always looking at detail and simplifying the lines.
My glass art is colorful and fun. Each piece is hand-painted using glass glazes that are fired on the glassware at low temperature. For me, painting on glass is just like a watercolor artist painting on a canvas. My style is contemporary and uses lines, patterns, and colors influenced by individuals such as Frank Lloyd Wright. Ultimately, I create a playful and functional piece of art that makes you smile. My glassware makes a colorful and unique gift, and creates a presentation that makes every dish taste better – especially martinis!
(Visited 589 times, 1 visits today)